London Fashion Week is upon us, and over the coming days we will surely be wowed by the cutting-edge clothes on our capital's catwalks. This week is naturally about what's new in fashion; however, vintage clothing is also a passion for many people, and the desirability and collectability of vintage clothes has grown steadily over recent years.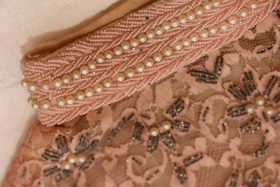 Just like other fragile and delicate objects, clothing will deteriorate if not cared for properly, so below are a few tips on keeping vintage garments in good condition.
• Unfortunately, wearing clothing wears clothes out; so if you wish to enjoy dressing up in your vintage clothes, do so only occasionally.
• Before storing, ensure pieces are clean. Dry cleaning is good, but it is always advisable to consult a textile expert to make sure it is suitable for the particular garment. This is extremely important if a piece is fragile or antique. If you are not sure about how to clean a garment, always seek expert help.
• Avoid using hangers to store clothing as these will stretch, damage and distort the fabric. If you must hang an item, only use padded hangers.
• Never store garments in damp or hot environments, as moisture and heat will both cause damage. Also always keep garments away from sunlight as it fades and weakens fabric.
• The best way to store an item is in a museum grade textile box lined with acid free tissue. If you need to fold the piece, use acid free tissue between the folds and make a cylindrical cushion from the tissue to prevent the fold creasing the fabric.
• Placing museum grade silica gel packets inside the storage box will help prevent moisture and pests, and museum approved pest deterrents are also advisable. Store the box somewhere cool and dark.
• Once stored, check your garment box at least once a month to ensure the internal conditions are stable.
• If you are unsure about how to store an item, always seek professional advise.
Follow this link to read an article about how the V&A's Textile Conservation Studio cleaned a very rare Christian Dior vintage costume.