Recently we had the privilege of cleaning 26 beautifully carved gilt frames at The Royal Academy of Music near Regents Park in London.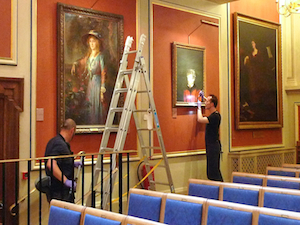 The majority of the frames were located within the main concert hall and consisted of several full-length portraits of former Academy members.
One of the highlights of this project was working on the frame of the portrait of Julia Neilson [1868-1957].
Julia was an English actress best known for her numerous performances as Lady Blakeney in The Scarlet Pimpernel and also for her portrayal of Rosalind in a long-running production of As You Like It.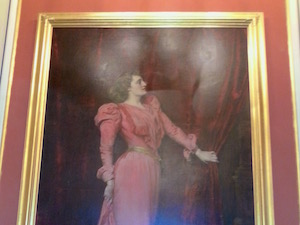 Her husband, Fred Terry, was the great uncle of John Gielgud, and she played with Terry in London and on tour for nearly three decades.
Another highlight was working in the same room as the new Dukes Hall organ - the Academy's brand-new main concert organ - custom-built in Switzerland and generously funded by Sir Elton John.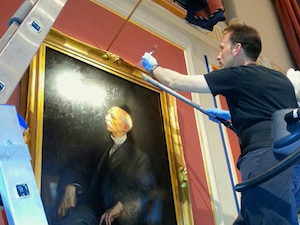 Cleaning the frames entailed the use of low suction museum vacuums together with sable-hair brushes to remove layers of dust from the surface of the frames.
We then covered each frame in Tyvek cloth to protect them from dust accumulation whilst other works were proceeding in the hall.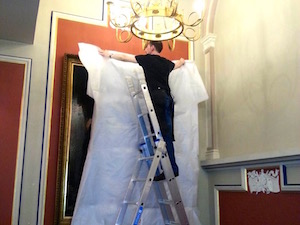 The museum at the Royal Academy of Music is free to visitors and contains a wonderful array of historic instruments as well as fascinating and unqiue musical items - such as the 'Viotti ex-Bruce' violin by Antonio Stradivari which was once played to Queen Marie Antoinette, a letter penned by Franz Liszt, and Gilbert and Sullivan's original score for 'The Mikado'.
The Royal Academy of Music is located on the Marylebone Road, NW1 5HT 020 7873 7373. The Museum and shop are open:
11.30am–5.30pm Monday to Friday and
 12pm–4pm Saturday.