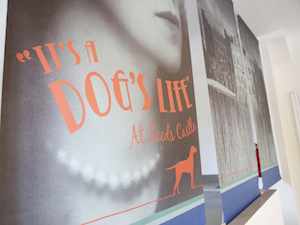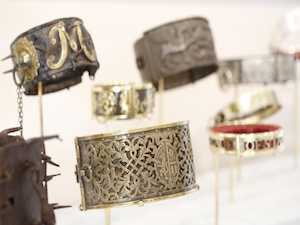 Last year we were very pleased to assist in preparing part of Leeds Castle's famous dog collar collection for exhibition. Their collection spans five centuries and contains over 130 dog collars – ranging from the extremely ornate and beautiful, to the down right fearsome. The sixteenth-century German spiked iron collars are truly something to behold!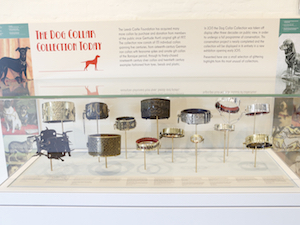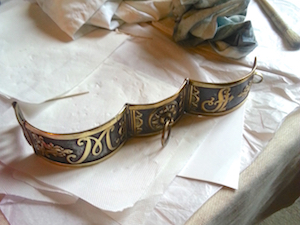 After being on display at the castle in Kent for over three decades the collection was removed from public view in 2013 so that a comprehensive conservation program for the collars could be carried out.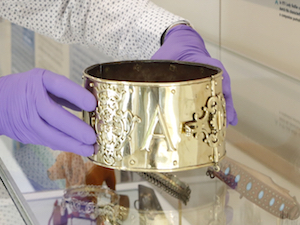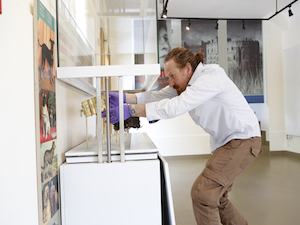 An interim exhibition of some of the collars - 'It's a Dog's Life' - was put on display at the castle last year and we were asked to clean and prepare a selection of collars for this event.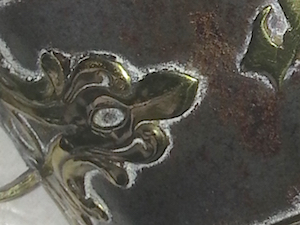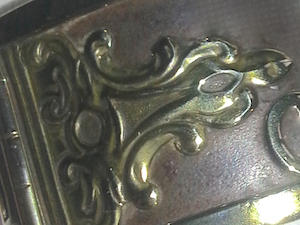 Over the course of a few months one of our conservation housekeepers worked on site readying all the collars you can see pictured here. (Directly above are before and after pictures of a leather and brass collar.)
The full conservation program for the collars is nearing completion and the whole collection will once again go on display at Leeds Castle in March 2015.
Many thanks to Leeds Castle for providing most of these image