If you've ever had building works at your home, then you'll know that builders = dust. Of course, building dust occurs wherever works have been going on, including beautiful and historically significant properties which have been undergoing restoration work.
Kenwood House - English Heritage's much loved neo-classical Georgian house in Hampstead - is one such property, and a few weeks ago a team of our conservation cleaners were lucky enough to be involved with the post-restoration deep clean of the house.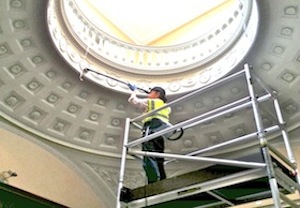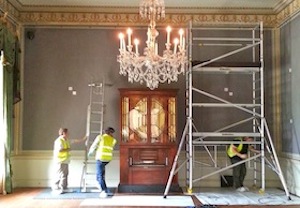 For the past eighteen months Kenwood has been closed to the public while essential repairs and restoration works have been carried out to the roof and interiors of the house. (Its famous art collection has been touring the world.)
The reopening of the house in a few weeks time will reveal a total of eight rooms which have been restored and reinterpreted, with the Robert Adams interiors being returned as far as possible to their original design scheme.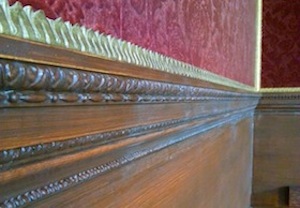 After eighteen months of work you can imagine there was quite a lot of dust, so before any of the art and furniture could be returned to the house, the whole interior needed to be deep cleaned from the top down.
(The best way to remove building dust is with small brushes and museum vacuum machines.)
Generally, (as long as conditions are not too humid) building dust is relatively easy to remove, as it has not been sitting on surfaces for long periods of time. It does however cover everything, including vertical surfaces such as walls, so cleaning needs to be extremely thorough as well as extremely gentle.
Although we did clean them, we cannot talk about the new Robert Adams interiors in any detail – it would spoil the surprise! - however we can say that both long time lovers of the house and new visitors are most definitely in for a treat this winter when the house reopens.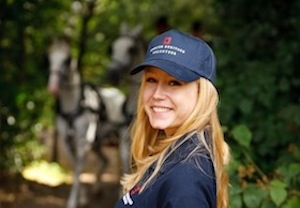 There are few things more delightful than a wander around Kenwood's stunning interiors and art collection, followed by a walk on Hampstead Heath (not forgetting a delicious slice of cake in Kenwood's delightful Brewhouse Café of course) and with the restoration almost complete this North London pleasure can once again be enjoyed.

Other information about the house, events, and details of how to support the project can be found here