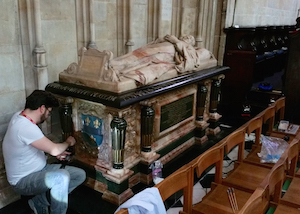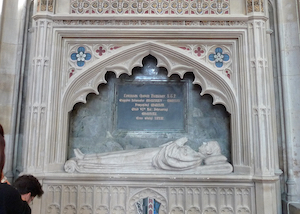 A few month's ago we had the great pleasure of cleaning two beautifully carved effigies in the chapel at Eton College. Both of the effigies are part alabaster, so we thought we'd take the opportunity to talk a little about how to care for this special stone.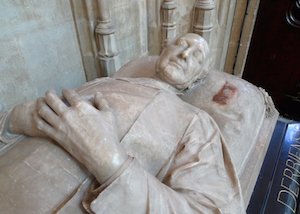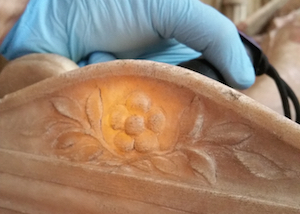 Although alabaster resembles marble in many ways, it is actually much more fragile. (One of the distinguishing characteristics of alabaster is its traslucence.)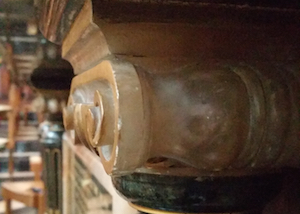 The most important vulnerability to be aware of is that alabaster is water-soluble. Steam cleaning (a common method for cleaning marble) would devastate an alabaster statue. So firstly, and most importantly, never use water (or water based solutions) to clean alabaster.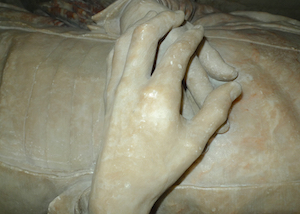 Alabaster is also soft. This softness, along with the stone's appealing aesthetic properties, have made it attractive to stone carvers for centuries, however it also makes it vulnerable to scratching. Some types of alabaster are so soft they can be scratched with a fingernail. It is therefore very important to never use anything abrasive.
Dusting alabaster regularly is essential to prevent dirt becoming engrained. Dusting should be carried out using a soft brush. (Do not dust with a cloth, as this can push the dirt into the stone.)
More intense cleaning can be carried out using conservation foam erasers and certain solvents. Intense cleaning should only be carried out by conservation trained persons. It is all too easy to cause inadvertent damage, particularly to carved areas.
(All these photos are from our project at Eton College chapel. Some pictures show alabaster and some other types of stone. The large upright statue above is made of marble, hence the steam cleaning!)
As you can see from these photographs Eton College Chapel is a very special place; full of beautiful objects and wonderful history. If you are ever offered the opportunity to visit, don't pass it up!